The Warings - Tommy & Debra
Dear Mr. Williams;

We are a family from NJ who recently reached out randomly via Realtor.com to find a friendly looking agent to help us relocate to Texas. I actually tried several and did not feel a connection to any. Once I had a chance to converse with Kymberly online we hit it off. I don't think in my lifetime I have come across a more consummate professional. I was immediately impressed with Kymberly's attention to detail and her ability to listen to EXACTLY what we were asking for. Our awe of her professionalism was heightened to the highest extreme once we had the most pleasant opportunity to meet with Kymberly in person. What we were not expecting was the warm friendship that followed in such a short period of time. We were in Texas for precisely one week, and in that 7 day period of time Kym showed us so much attention and friendship it felt as if we knew her for many years. There are many professionals in this world, few to Kym's level, but beyond that and even more rare is her ability to warm the human spirit and extrude such goodness as to make a lasting and lifelong impression in a mere week. Not only would we never even consider purchasing a piece of property from anyone else, but we intend to share our positive experience with everyone we meet. Kymberly Harrison is the "gem" on top of Keller William's crown, and we consider ourselves so fortunate to have met her.

Thank You
Debra and Tommy Waring - 3 new properties in Texas (and counting!)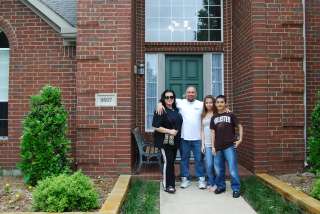 ---
Carolyn Mayer
I understand you are looking for a realtor and I would like to tell you about Kymberly Harrison at Keller Williams because she has been such a wonderful help to me. We go to closing on the l4th of May and she has made the whole buying/selling thing so easy for me. I highly recommend her. She is about the most enthusiastic person I've ever met, and she is as thorough as a person can possibly be. She knows her stuff and treats you like you are the only person she is working with, working night and day, and answering all E-mails and phone calls almost as soon as she gets them. I was frankly not going to use a realtor at all and met her quite by accident. I am so glad I did! Do give her a try. I know there are lots of good realtors out there, but she will have your best interest at heart, and be most professional. You can reach her at 972-733-9554. Good luck! Carolyn Mayer
---
Jenny Stephens
I am writing this note regarding Kymberly Harrison's abilities as a real estate agent. My mother just recently closed on a home with Kymberly. I was very involved in the process and was present for almost every showing/meeting. Kymberly is one the most motivated, enthusiastic, and diligent realtors I have ever met. She is very smart, understands her duties and loyalties to her clients and will make sure that you understand the process every step of the way. Kymberly always responds very quickly when returning phone calls and was always on time for showings. Most importantly, Kymberly listened to what my mother wanted in a home and did her research prior to setting up appointments. In other words, Kymberly did all the leg work first and made sure that the homes she showed were in good condition and were what my mother was looking for. Kymberly was also very helpful in getting financing set up as well as all the necessary inspections/appraisals, etc.... I truly believe that you will not find a better realtor to represent you. If you have any questions, please do not hesitate to call me. Sincerely, Jennifer N. Stephens Attorney at Law Sifford, Anderson, Vice & MacFarlane, L.L.P.
---
John B. Hoffman
I felt certain that looking for our new house was going to be a painful drawn out experience. Kymberly made me feel comfortable from day one and let me know that she was here to make the process painless and the experience amazing. She passed both tests with flying colors! In two days she found me the house of my dreams and took care of all of the details. Kymberly is an extraordinary person and a superb realtor.
---
Jennifer Hart
Working with Kymberly made selling my home so much easier than it could have been, she handled alot of the details for me, knew who to go to for repairs, for new carpet, for cleaning, even for my move! Kymberly was exceedingly professional and unfailingly enthusiastic, she knows her market, both properties and people. As far as I'm concerned, Kymberly is what you expect from a professional realtor, I would unhesitatingly recommend her.
---
Alisha Balak
Being in the housing market for the first time seemed like it was going to be very overwhelming. Where do we start? How do we start? Who do we talk to? Thank goodness we had Kymberly. She answered our questions, calmed our fears and really got to know us. I can not say enough good things about her and the level of service she provided. We will definitely use Kymberly for our future home purchases and recommend her to our friends.
---
Dennis S
The incredible customer service and advice provided by Kymberly and her staff has been nothing short of stellar. Prior to listing my first home in west Plano, we sat down and discussed all the options available..She presented ways to make the home have more appeal. When she listed my home, the volume of traffic visiting the home was just incredible. Kymberly marketed the home in ways I would not have imagined. As a result, I received the first offer within two weeks and sold the home at my listing price. My professional career involves a tremendous amount of monthly travel to Europe and Kymberly was equally accomodating in my recent purchase in Frisco. While I was in Europe, we were able to seamlessly and effortlessly tend to the details of the transaction thanks to her dedication with minimal, if any disruption. When it comes to DFW real estate, Kymberly is not just a realtor, but a partner in fulfilling the needs of her customers!